@2019 Copyright Karsgroup Cleaning Products & Eng. Ltd


Kar's Group Cleaning Products
&
Eng. Ltd

嘉栢清潔機械有限公司


Cold water high pressure cleaner

冷水高壓清洗機
Power Supply (Ph/V/Hz)
Power rating (kW)
Water flow (l/hr)
Pump pressure (bar)
Weight (kg)
Dimensions (LxWxH)(mm)

1/230/50
2.2
490
110
20.5
351 x 312 x 904

1/230/50
2.5
500
120
23.7
380 x 360 x 930

1/230/50
2.9
590
130
25.2
380 x 360 x 930

1/230/50
3.1
560
150
30
400 x 456 x 960

Power Supply (Ph/V/Hz)
Power rating (kW)
Water flow (l/hr)
Pump pressure (bar)
Weight (kg)
Dimensions (LxWxH)(mm)

3/400/50
4.6
760
180
39.3
400x455x700


3/400/50
7.8
1000
230
62
560x 500 x 1090

3/400/50
9.2
1000
250
62
560 x 500x 1090


Single phase
單相 230
V/50Hz >
Three phase
三相 400
V/50Hz >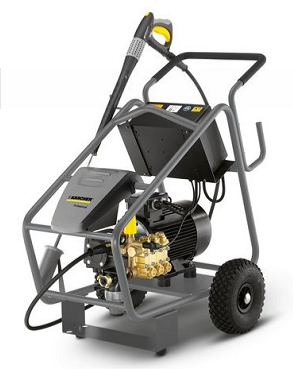 Cage super class - for the toughest jobs.

The Cage super class provides high mobility and outstanding performance for prolonged operating periods.
Exceptionally high water flow rate quickly remove stubborn dirt and soiling.

1. Cage frame
- Robust, tubular outer frame.
- Integrated crane attachment point and accessory compartment.

2. Electronic monitoring for greater operating safety
- Leakage protection and soft start.
- Overvoltage and undervoltage protection.

Power Supply (Ph/V/Hz)
Power rating (kW)
Water flow (l/hr)
Pump pressure (bar)
Weight (kg)
Dimensions (LxWxH)(mm)

3/400/50
12
500-2500
30-150
112
957 x 686 x 1080